Two Factor Authentication
What Is Two-Factor Authentication and Why Do We Use It?
Two-factor authentication (2FA) enhances the security of the ROCK Cloud.
As part of Rock Robotic's commitment to security we require all accounts on the Rock Cloud to use two factor authentication.
The preferred method of two-factor authentication is via a one-time-passcode.
When you see: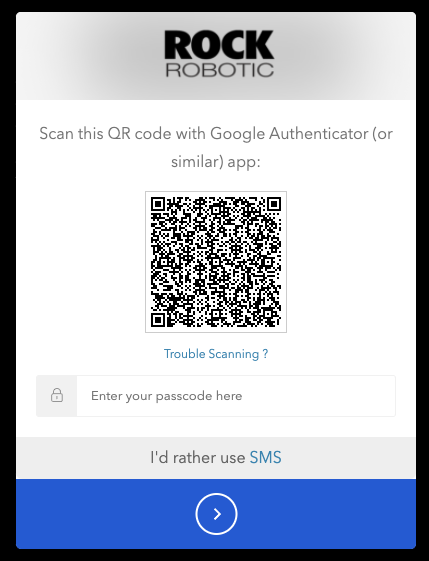 Then you can download a one-time-passcode app onto your phone and scan the QR code from the app to set up your 2FA. Here are a list of apps that work:
Using your 2FA to log in to the ROCK Cloud
1. Go to cloud.rockrobotic.com
2. Log on with either your username and password OR via your google (or Facebook or GitHub) account - be sure that you are choosing the option that you used to register your account when you created it.
3. When prompted to enter your 2FA code, open your chosen authenticator app to find the code (this code will change periodically to protect your security).
4. Enter the 6 digit code provided and get ready to ROCK On