An introduction to the ROCK Surveyor APP
One of the key deliverables produced from aerial LiDAR data is a bare earth surface model called a Digital Elevation Model (DEM), and Contours. To generate these deliverables, the ROCK cloud offers the ROCK Surveyor APP which processes raw LiDAR data and produces a ground classified LAS, DEM, Contours, and a Ground Control Report.

Overview
A DEM (Digital Elevation Model) and Contours allow you to get accurate insight into the ground topography. One of the key advantages of LiDAR vs. Photogrammetry techniques is the ability of the LiDAR to penetrate through vegetation canopy and accurately measure the bare earth surface.
When you order the ROCK Surveyor APP, the ROCK A.I. Engine gets to work. The A.I. Engine meticulously classifies the LiDAR data as Ground and Non-Ground.
Once the ground is accurately determined, then a DEM and contours are generated. The deliverable DEM and contour lines are delivered in the most popular formats so you can import into any CAD or GIS software packages. Additionally, you can view the contours right on the ROCK Cloud!
How to Order ROCK Surveyor
Breakline orders or merged projects present issues for adjustment to your cloud.
Please be sure you have all GCP's in your project PRIOR to ordering Surveyor with Breaklines. Also make sure you check alignment for each individual cloud PRIOR to ordering ROCK Surveyor on a merged. Once the order is placed if processing has started or completed we are unable to cancel the order or refund tokens used. You will need to create a new project and start processing again which will incur token cost for the new project processing.
Go the ROCK Marketplace by clicking the green "process" bar in the bottom of the left pane.
Click "Order" on the ROCK Surveyor Item in the marketplace.
Select the contour interval level you'd like (0.5 ft - 100 ft).

Select which Classification Level option you'd like for your order.


Ground Only - this creates two classifications. Ground and "everything else" in your dataset.
Enhanced Classification - Ground + Roads, Water, and Vegetation. All others are "unclassified"
Enhanced Classification Plus - Ground + Roads, Water, and Vegetation + Bridges, Transmission, and Buildings.
Be aware, not all points in your dataset will be classified under each respective class. This is due to voxelization which basically picks a representative group of points for the classification to prevent over classification and reduce the number of triangles built in the mesh.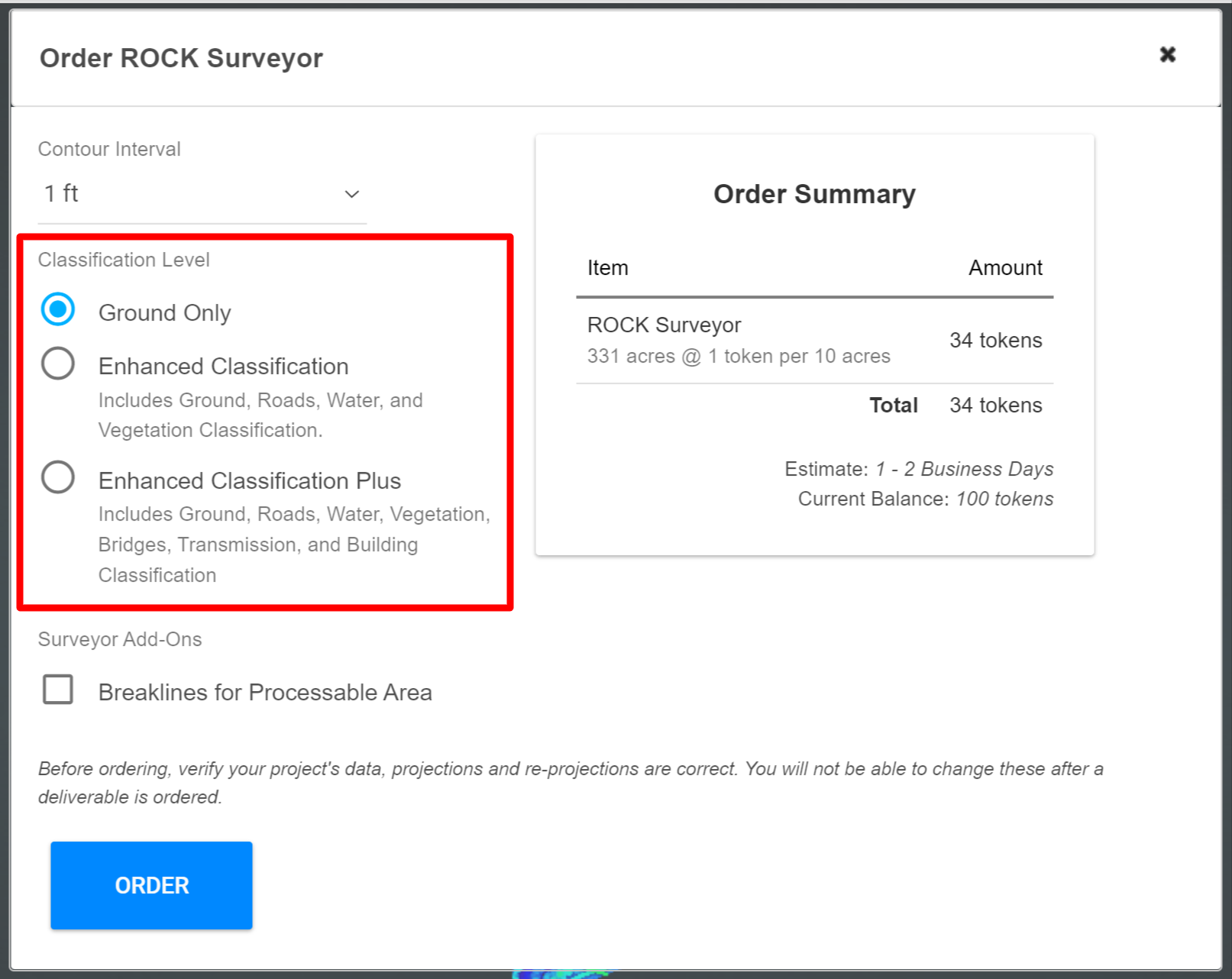 Select whether you'd like breaklines included in your order.
Be sure you have all GCP's you want in this dataset PRIOR to ordering ROCK Surveyor with breaklines. If you complete the order and want to add more GCP's after the fact you will need to contact ROCK Support.
Breaklines can be added to your deliverables to enhance the accuracy of your dataset. Breaklines will help the accuracy around bodies of water, rivers, creeks, and roadway features like curb and gutter. Additionally, if you upload one or more Ground Control Points these points will be used to enhance the accuracy of the dataset.
Breaklines can be for a smaller area within your dataset. To do this make an "enhanced area" by creating an area measurement of your "area of interest" and toggling on "enhanced processing" within the measurement. DON'T FORGET TO SAVE YOUR MEASUREMENT prior to opening the ROCK Surveyor Order Form.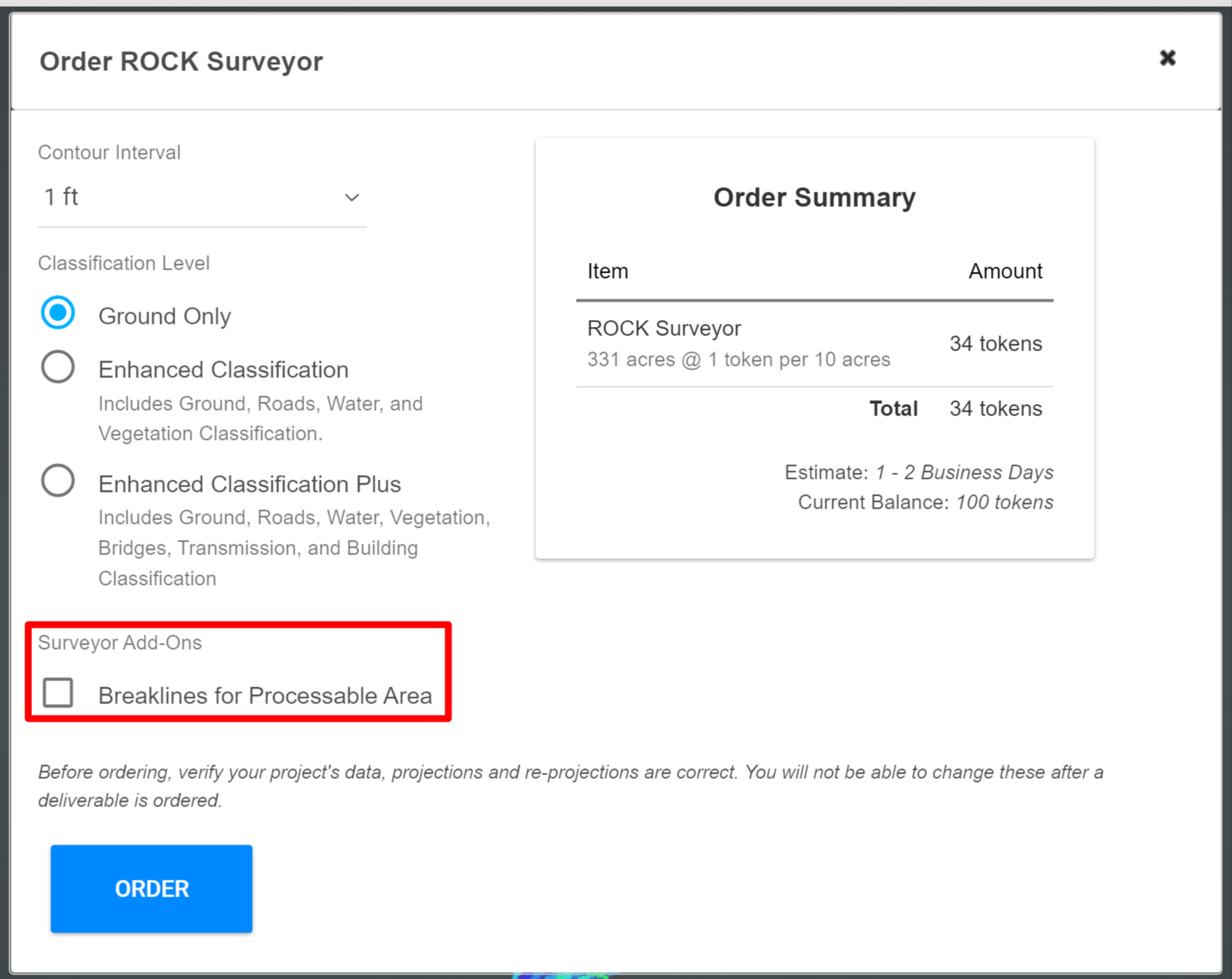 Review your order pricing and delivery date estimate (see "Pricing" section below for a breakdown of what you're looking at).
Once an order is placed we are unable to refund tokens used. Please ensure class level, add-on selection, and acreage being processed meets your expectation. If you need to trim the acreage being processed delete points by following the steps here: delete points from the cloud. Please do not ask for an ETA of your deliverables until you are on the last day of your estimate. See also: Order ETA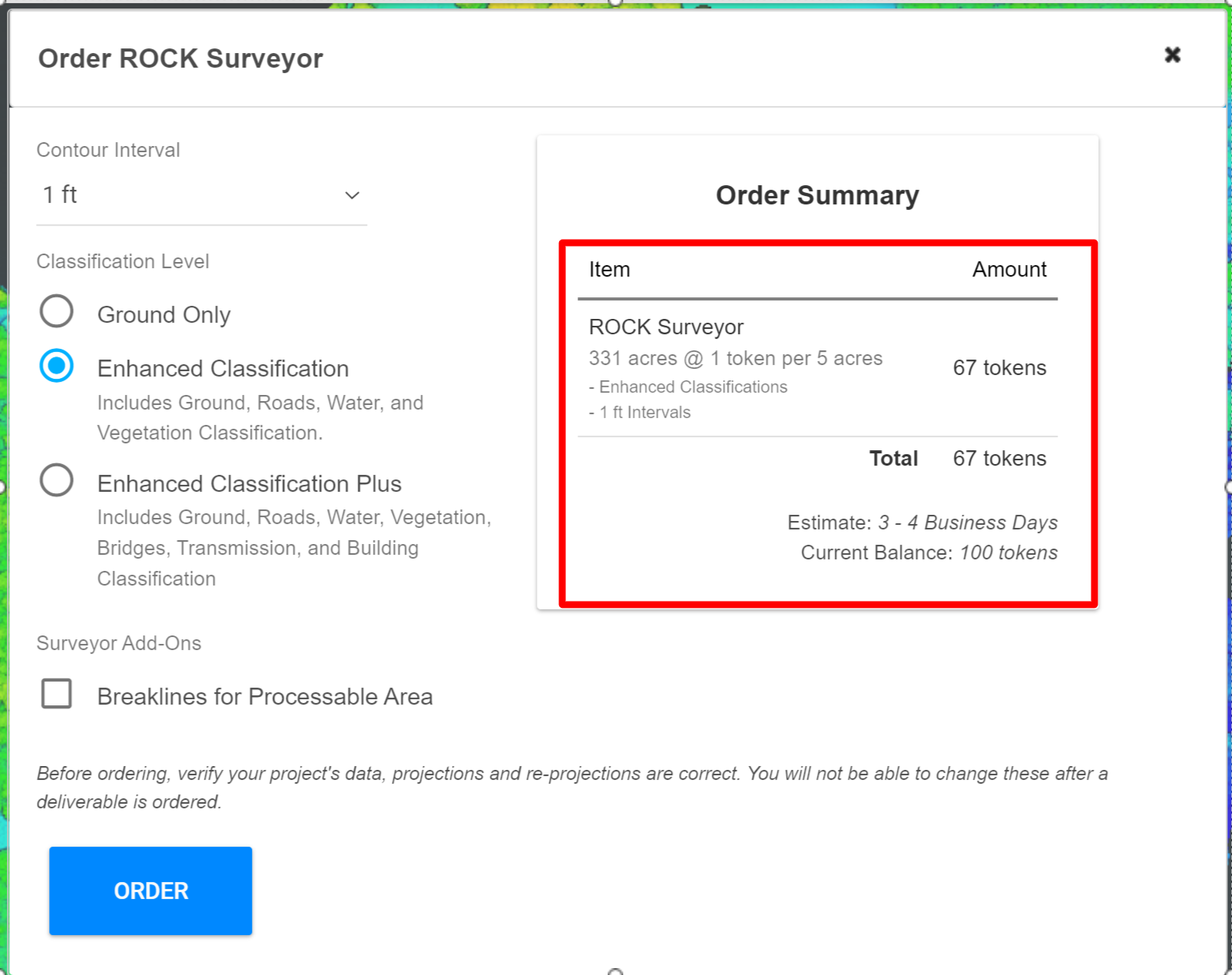 Click "Order"
Once your deliverable is complete, you can dial in your vertical accuracy for your dataset by following these steps: Dial in Your Vertical Accuracy Keep in mind that this works ONLY f you did not order breaklines.
Pricing
The ROCK Surveyor APP is priced starting from $2 per acre. You will see a breakdown of your specific order based on your contour interval, class level selected, and a seperate line item for "breaklines for processable area" if you selected that add-on.
Please review the acreage being processed AND the cost per acre BEFORE completing your order. Double check your measurement polygons to ensure you're capturing your desired area for "enhanced processing areas." We are unable to make adjustments to an order, or refund tokens used once an order is placed.
Deliverables
Ground Classified laz file
SHP file containing geometry data
DBF attribute format file
SHX shape index file
DEM in TIF format
Accuracy Report
Example Project
An example project can be found here:
Quality Control/Quality Assurance
At ROCK, we understand that each project is vital and mistakes can't happen. Each project goes through the A.I. engine and is then verified by an engineer at ROCK robotic. If there is any issues with your data, please contact support@ROCKrobotic.com and we will get it fixed!