Walkthrough of what each PCMaster popup error means
Failed to find good IMU Rotation and Lever Arm - check vehicle motion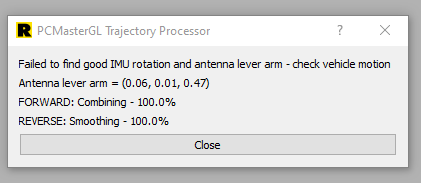 Landing Error

Make sure you do the high velocity flight for 7 seconds (minimum) in a straight line, then don't exceed 3 m/s in ANY direction.
For step by step on landing procedure see here: Important Landing Procedure

Figure 8 "Crabbing"

During your "figure 8" portion of the calibration your figure 8 motion was not in a good enough forward motion.
You may have moved the aircraft sideways as you made your circles instead of moving your aircraft left and right with the yaw.
You can generally see if an error in calibration or crabbing has occurred by viewing the rtk.pcmp file and noticing it doesn't resemble anything like the flight plan you had planned. Example image below.

Failed to Convert Base Measurements
Your RINEX file is corrupted during collection.

Try re-downloading your base files from your Base Station. If this does not work you will need to re-fly or process using a satellite correction (less accuracy).
Failed to Combine LC Trajectories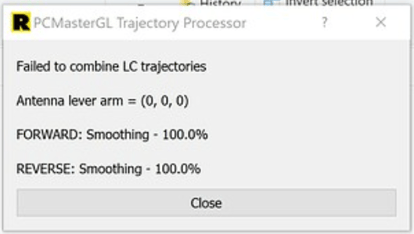 Your calibration did not register the two high velocity portions (you didn't fly faster than 5 m/s for 7 seconds) at takeoff or return.
Your calibration flight did not include proper figure 8's to give the IMU the required turns to calibrate.
Failed to Convert GNSS Measurements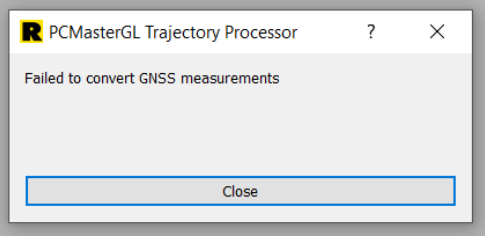 Files for your base station are not in correct format.
Files for your base station are named differently so they're not tying together.
Make sure your data is saved on a local drive and IS NOT SYNCING with a cloud system.
Failed to Resample Base Measurements
Make sure your base RINEX data was copied properly from the EMLID
Ensure you have all 3 of your RINEX files in the same place.


While you only select the .220 file, you need all 3 files produced from the Emlid: .23O, .23P, .23B
Failed to process GNSS Trajectory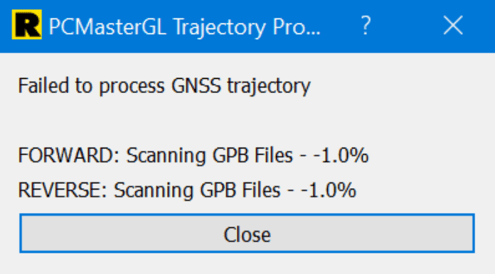 The base station file you are trying to use does not have time overlap with your flight data.

You have the wrong timestamp in the file by requesting the wrong GMT from your correction network.
You simply picked the wrong base station file (maybe you have multiple setups that day or multiple files across several days).

Here's how to see if you have base station data from the wrong day/time

Look in the INS folder of your Rock data
Open the latest PPK report - this is an HTML file
Your Rover lines should be fully contained within your Base line, like below. If not, the RINEX data is from another date/time.

Operating System
Our pre-processing software has recently been upgraded to compatibility with Windows 11. If you have recently upgraded, please let us know if you see any issues on Windows 11. Windows 10 also works. Mac and Linux systems are not supported.
Failed to Load Project- Stuck on opening screen
Your license for PCMaster is not "checked out" by the machine you're running.
You had an improper shutdown from battery disconnect during a hotswap, you hard shutdown the unit before the project finished writing, etc.

To learn how to try and recover your PCMaster and PCPainter project files see here.
Failed to Process TC Trajectory
You did not include the ephemeris data in the base station.

This typically occurs in Trimble Units if you loaded the OBS and Rinex Files. Try loading the 22O 22B 22P files.
Generally there are two ways to fix these problems:
Option 1: Re-fly the mission.
Option 2: Contact support@rockrobotic.com and we MAY be able to process your data manually. (This option does require a fee)
License Manager Error:
When upgrading to PCMaster versions 2.5 or higher, you may encounter an error message if the uninstall was unable to finish properly. For example, if PCMaster was open at time of uninstall or if the computer had the process open without you knowing.
The fix is here: https://community.rockrobotic.com/t/pcmaster-update/1137