How to connect and power up your ROCK Base unit.
Installation
Unpack your base station.
Contents
Triple-Band 4 Constellation GNSS Receiver
Survey Grade Triple-Band Roof Antennae
9m Antennae Cable
WiFi Antennae
USB-C Power Cable
Mounting Pole (0.3m) and Brackets Included


Prepare the GNSS Antenna
Locate a sturdy location where you can mount the antenna. You will need to make sure there are no obstructions from the horizon 360 degrees around the antenna. The peak of your roof is often an ideal location.
Mount the antenna using the included mounting pole and bracket and connect one end of the 9m antenna cable to the antenna.
Run the other end of the antenna to the base station.
If you need a flexible mounting option, we recommend this: https://amzn.to/41bshqA
Prepare the Base Station
Remove the red plastic cap from the wifi-BT input and connect the wifi antenna.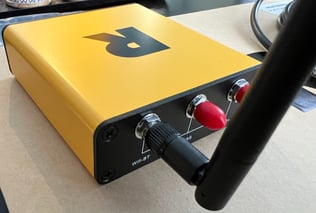 Next, remove the red plastic cap for "GNSS+" and connect the smaller end of the antenna cable.
Next, plug in the usb-c cable and power the device with any usb charger that provides at least 1 amp.
If you need a longer cable from the antenna to the base, we recommend this: https://www.pasternack.com/showProduct.aspx?SEName=tnc-male-sma-male-lmr400uf-cable-assembly-pe3c1704-hs&ProductID=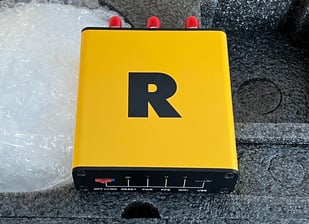 It can take up to 7 days to get a precise point once the ROCK BASE is installed and configured. A "FIX" will not be available until this process is complete.
Power UP / LED Definition
Switch your ROCK Base unit to the ON position using the small slide switch. The left red LED (Power) will be turn on solid.

The right green LED (WiFi Internet) should be blinking slowly.

The middle orange LED (PPS) will be off and activated later.

The device is now in the "Access Point Mode" (AP Mode)
For debugging, the usb-c can be used as a serial communication port. Note: we recommend using the provided WiFi antenna, as during testing we have seen issues with other WiFi antenna.
LED
FUNCTION
STATUS
RED
POWER
SOLID, when powered
ORANGE
PPS (Pulse Per Second)
BLINKING (1s), antenna sees satellites
GREEN
WiFi / Internet

BLINKING (SLOW): Acces Point mode, Used for configuring Internet connection (http://192.268.4.1)

BLINKING (FAST): Attempting to connect to Internet via Configured SSID and Password SOLID, Internet is connected