Follow these easy steps to migrate your PCMaster/PC Painter pre-processing software to the NEW ROCK Desktop pre-processing software and visualizer and get ready to ROCK!!!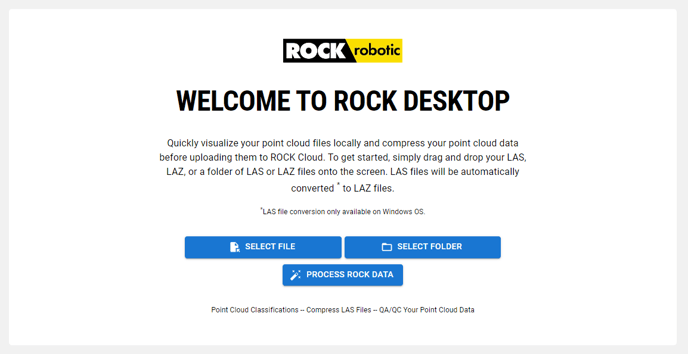 NOTE: ROCK Desktop is replacing PCMaster & PCPainter as the pre-processing software used to create your .las/.laz point cloud from your raw R2A, R360 & R3Pro data.
ROCK Robotic continually improves its tools for processing drone LiDAR data and the new ROCK Desktop breaks the mold. Whether you're new to ROCK Robotic or have been ROCKin' your ROCK hardware for a while, this brief guide will help you switch to the new ROCK Desktop pre-processing software with ease.
Step 1: Ensure your ROCK LiDAR is registered on the ROCK Cloud
Step 2: Prepare your account information



Current ROCK customers using PCMaster & PCPainter should provide their ROCK Cloud account email address and their processing software License Key to the ROCK Robotic Support Team (via email support@rockrobotic.com or live chat) for assistance in getting started. If you aren't sure what your processing License Key is you can access it via the LLM Form License Manager for PCMaster by following these steps:

Open File Explorer and go to the directory - C:\RockRobotic\PCMasterGL.
Run LLMform.exe.
Select the license on your machine under "local licenses" on the left side of the window. Note the license key contained in the Local Licenses box.
Be sure to Return/Release the license key so that you can use it in ROCK Desktop. Click "Return" on the local license you have checked out (right side of the window where you see refresh in the screenshot).
When you activate your license key in ROCK Desktop, you can still open up PCMaster & PCPainter and process there as well if desired, however, if the key is active in the PCMaster LLM then you will not be able to activate it in ROCK Desktop simultaneously.
If you need to renew your pre-processing license or ROCK Cloud Subscription, you can purchase a pre-processing license
New ROCK LiDAR customers or customers renewing their pre-processing licenses will automatically be set up in their ROCK Cloud account as part of their order process
Ensure you have released your license key from PCMaster and it is not active on any other devices prior to activating it on ROCK Desktop.
Step 3: Download the ROCK Desktop software
Step 4: Set up and start using ROCK Desktop

Log in to your ROCK Cloud Account and click the button to enable your license key. This step only needs to be performed when enabling a license key for the first time and then allows you to activate and return the license for processing as desired in ROCK Desktop until it expires.
Now open ROCK Desktop, click "Process ROCK Data" and log in with you ROCK Cloud Account credentials when prompted. Agree to terms and conditions prior to your first processing session after activation for a new license.

Step 5: Follow the prompts in ROCK Desktop to process your data quickly, all in the same interface!
Switching to the new ROCK Desktop is a straightforward process, designed to make your drone LiDAR data processing seamless. The ROCK Robotic team is always available to offer support and answer any questions during your transition. Let's ROCK!!
Reach out to support@rockrobotic.com if you have any questions!